5 Tips To Transform Your Home With Modern Blue Kitchen Cabinets
Blue may seem like an unusual choice for the kitchen but wait till you see our design ideas for Modern blue kitchen cabinets.
Blue is the most popular color among homeowners owing to its versatility and ability to make any space brighter by reflecting natural light. Be it a bedroom, living room, balcony, or home exterior – you will find some shade of blue in most homes. But what about kitchen cabinets? Yes, blue is an uncommon color for kitchen cabinets. Conventionally, brown, black, white, and organic greens are used for kitchen cabinets. But homeowners nowadays don't shy away from experimenting.
But, why blue, you ask? Why not? Blue is one of the most perennial colors and adds a sense of sophistication and tranquility to your space. It reflects the limitless sky and depth of the ocean. When other trendy colors lose their sheen, blue never becomes tiring. Hence, try modern blue kitchen cabinets if you want something that will make your home stand apart.
Here are some great ways you can feature modern blue cabinets in your kitchen.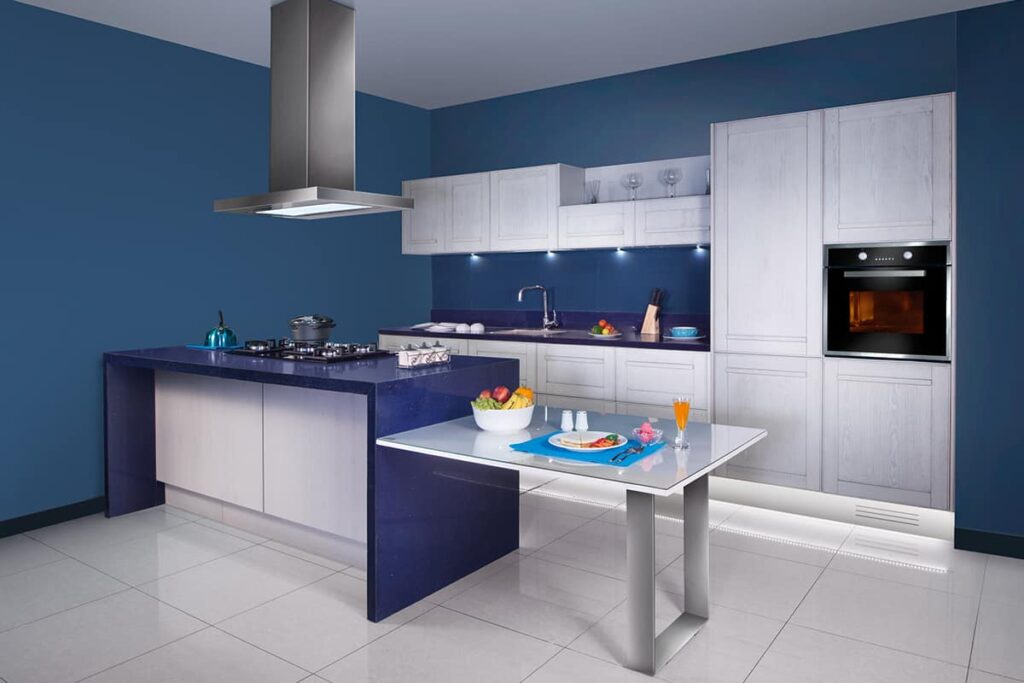 Modern Navy Blue Kitchen Cabinets In Combination With White Many people would argue that a dark shade of navy blue could make your kitchen space look smaller than it really is. But if it is used strategically, navy blue can do wonders. For instance, in the kitchen shown below, the bottom cabinets are navy blue, while the top is white. To create the illusion of a wider space, pale blue and white chequered tiles have been used as a backsplash. Also, we have used open pull-out drawers with jute baskets and glass cabinets to break the monotony.
Livid Blue Kitchen Cabinets For Those Who Are Fearless About Experimenting
Modern blue-grey kitchen cabinets go really well with quartz or marble countertops. The greyish shade gives the appearance of a wider space. Meanwhile, the kitchen looks clean, wide, and airy with white top cabinets, walls, and backsplash. Now, cooking won't seem like a chore anymore.
Adopt Minimalism With Modern Blue Kitchen Cabinets
If bold colors are your jam, don't be afraid to go all out with sky-blue cabinets. The muted grey walls, wooden floors, mid-century style wooden dining set, and woven pendant light highlight the bold blue color of the cabinets and add softness to the vibe.
Pair Modern Dark Blue Kitchen Cabinets With White Textured Tiles
Midnight blue and white is the most evergreen color combination. But this evergreen combination can also seem bland without a hint of something extra. Hence, we have used white textured tiles on the backsplash that creates an illusion of depth. We have also used golden handles to elevate the style quotient.
Vibrant Kitchenette With Aqua Blue And Yellow Kitchen Cabinets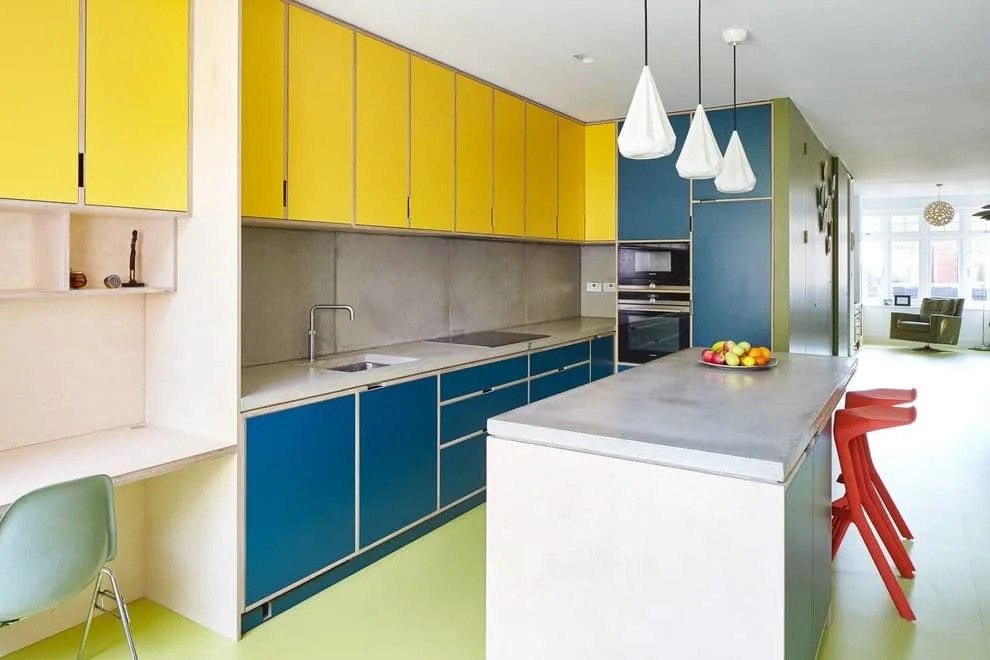 If you live in a studio apartment, you might have limited space to add colors, especially if you live in a rented home. Since you may not have permission to make permanent changes to the home, you can go for kitchen cabinets in vibrant colors. Here, in this small kitchenette, we have used aqua blue on the bottom drawers and mustard yellow on the top cabinets. You can also add color with water-proof wallpaper like the vibrant multi-color one we have used.
While designing your home, giving special attention to aesthetics is essential. When you return after having an exceptionally hard time at work, a dull home will worsen your mood. A beautiful home and an even charming kitchen décor majorly influence how you feel about yourself and life in general. So, if you need assistance in decorating your kitchen with modern blue kitchen cabinets, Srijan Interios is here for you.
Book a free consultation today – +91 9990928864