Top 10 Modular Kitchen Designs for Small Kitchen | Srijan Interios
We always dream of a spacious kitchen warm with natural lighting. But that is not something that every budget-friendly apartment offers.
Turing the available kitchen space in your apartment into your dream kitchen will need some very big and creative ideas from experts. Here we bring to you some foolproof and cost-effective ideas to incorporate to your kitchen design to make it feel spacious and to the point stylish. 
Classic White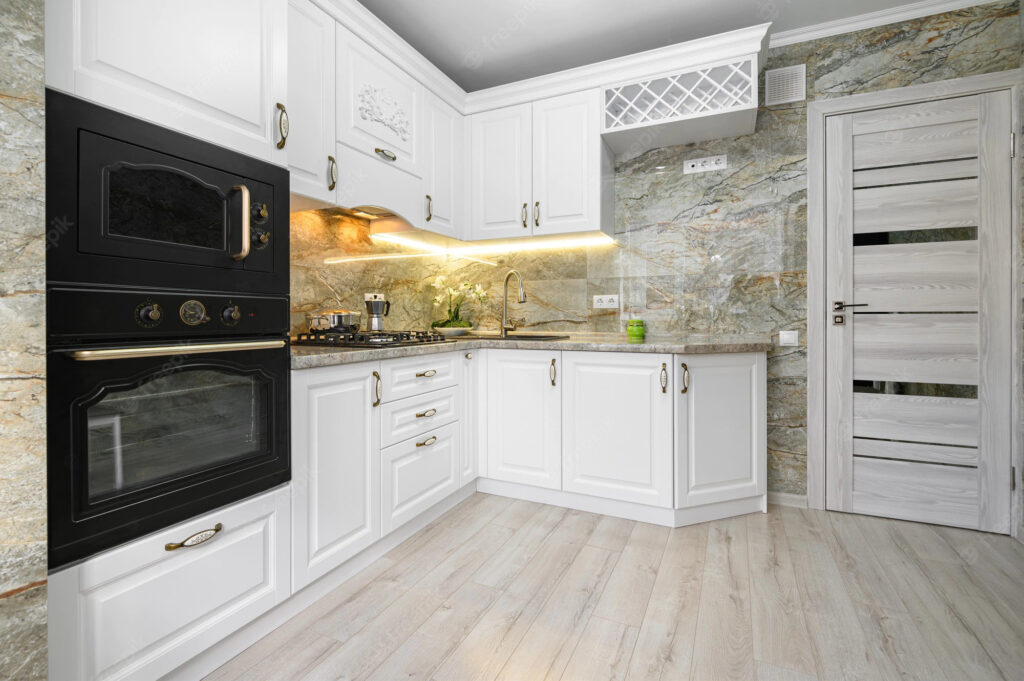 Classic design and white color is a match made in heaven. Cabinets in white give an illusion of more space and light in the kitchen. Keeping things horizontal with a classic and simple design will give the kitchen space a wider look without making you claustrophobic.
Mirror Effect
Using mirror finish on walls or cabinet doors can create a chic look and also gives an immediate brightening to your modular kitchen. The better light reflection also creates a look of a bigger area inside the kitchen. 
Statement Lighting
Simple and elegant lighting that stands out will give your kitchen a fresh look. Experimenting with a contrast color to your cabinet and wall will pay you for the efforts. 
Minimalism
Do you have a hobby of collecting all the exquisite crockeries from places you visit? Can you not control yourself at the crockery store? It's time to change.
Your kitchen is not a museum or the space to hold all the remanence of your shopping pleasures. Sticking to your necessity and going for simple designs will help you deal with an overcrowded kitchen.
Pot Racks
Pots of various sizes and shapes are an integral part of any kitchen. Storing them in the cabinets can consume a lot of the valuable space available in a modular kitchen.
Pot racks are an intelligent solution to this problem. A rack over the counter will save space and also add to the décor of the kitchen.  
Metallic Finish
This easy to maintain and elegant look creates a bigger looking kitchen will all the reflections it offers. The stain resistance of the material leaves you with a perfect looking cabinet always.
Glass Walls & Doors
Restraining the kitchen with solid walls will make it look smaller than it is. Giving glass partitions and doors will enhance the look and also make the kitchen spacious. Lightly tinted glass or ones with light-colored designs will give an extra edge.
Open/Single Shelf
Open shelves with minimum casing can give a wide look to the kitchen. You will have enough space for storage and at the same time, this will add to the decor of the kitchen.
Open shelves can also be used to achieve an industrial look to the kitchen and can also be used to show off some eye-catchy crockery.
Multipurpose Islands
Incorporating a breakfast table or an island to a small kitchen space would seem difficult. But this can be solved by strategic planning. Having a multi-purpose counter space will solve the issue.
The area can act as a counter space while assembling breakfast or dinner and will act as a breakfast table or an island to have your breakfast and dinner on.
Appliance Garage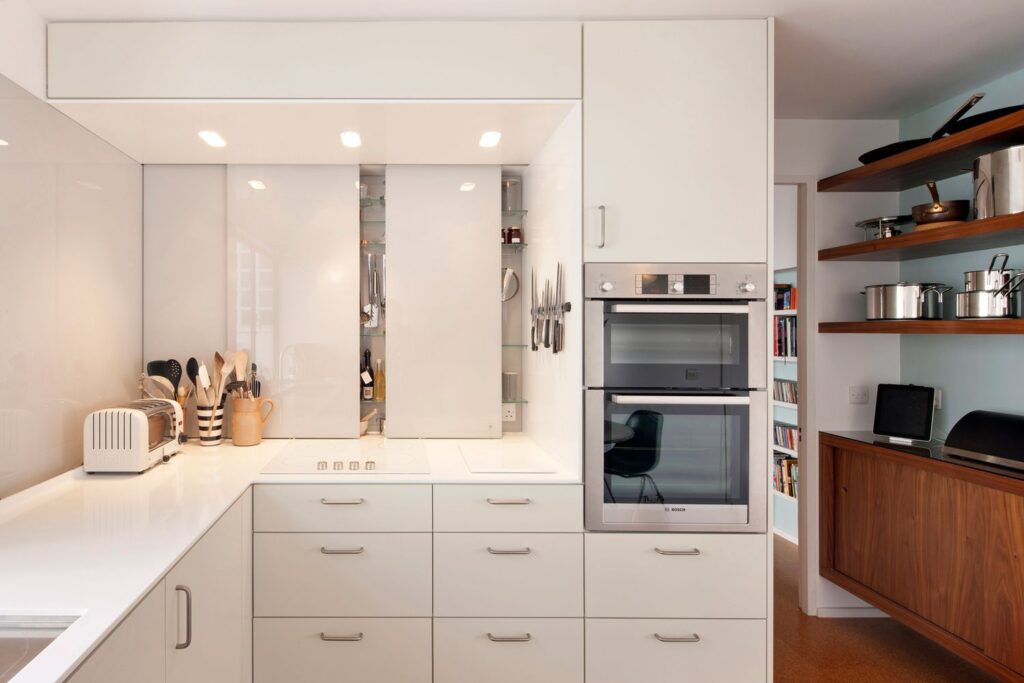 Keeping the countertop off the bulky appliances can create more free space eliminating the cluttered look. A section in the cabinets can act as your kitchen appliance garage to store those bulky appliances when not in use.
In today's world, less is more! Simple and small kitchen space can be turned into an efficient fully functional kitchen with few breaks through ideas. Spending time on your kitchen design will never go to waste.