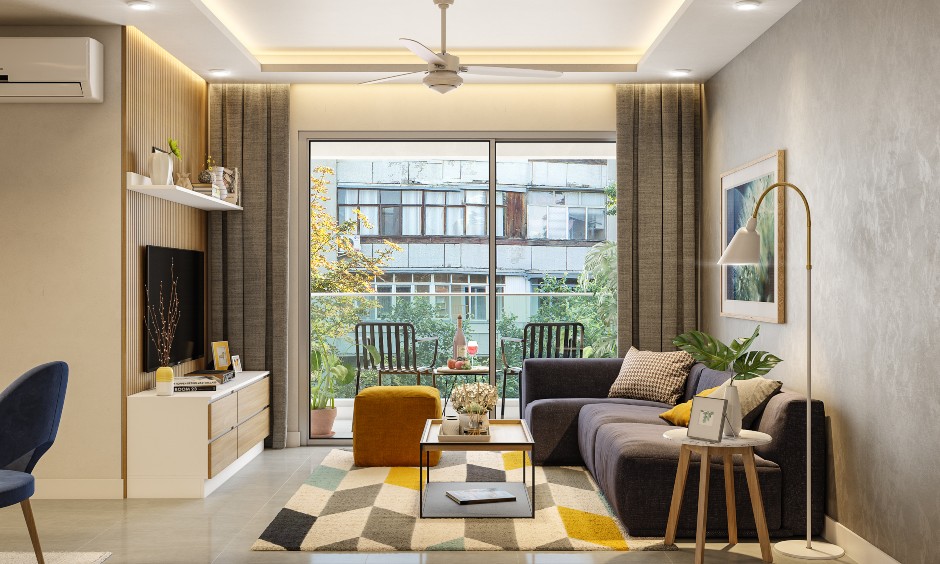 Top 7 Best Interior Design Ideas For 2 BHK Apartments – Srijan Interios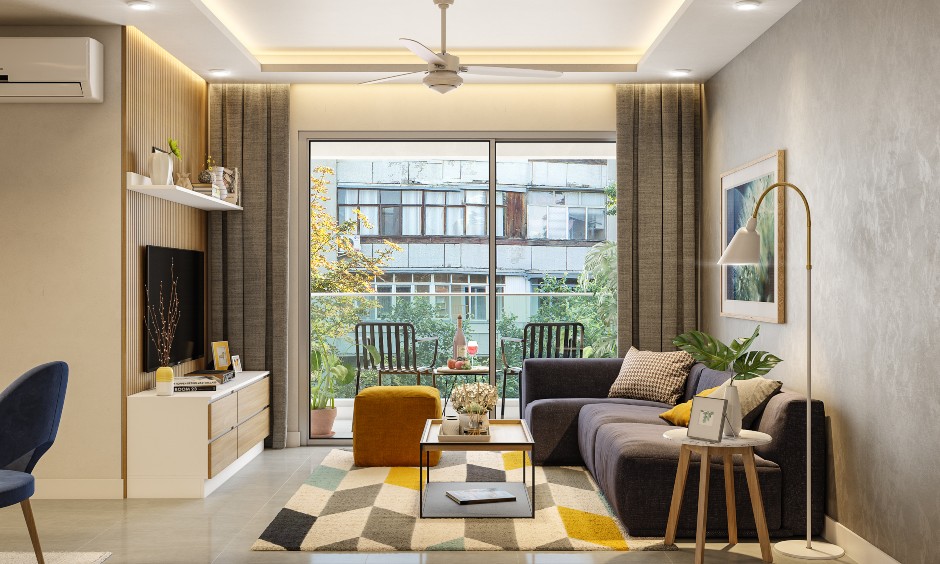 Remember, you own the home interior design ideas for your house so it can be traditional or modern, bright or neutral. We will provide interior design Services for your Home & Apartment that match your lifestyle.
Introduction
Everything is getting smaller and smaller as we get older. As a result, we're seeing an increasing number of people downsizing to smaller homes. These small houses are known as '2BHK flats.' They come in various shapes and sizes, but they all have one thing in common: they're all small. There's plenty of room to experiment, so you can make your flat look however you want. But how do you go about accomplishing this?
Finding some interesting interior design ideas that help your house look modern and more stylish can be quite challenging. But don't worry, we will make it look simpler and more interesting. It will also include some tips to keep in mind while decorating your home.
Before we begin to discuss interior design ideas, let us make a plan to chalk out the functionality of your bedroom or house structure. The concept behind brilliant 2BHK design ideas will include detailed planning and meticulous execution.
Srijan Interios is a Professional Interior Designer in Delhi NCR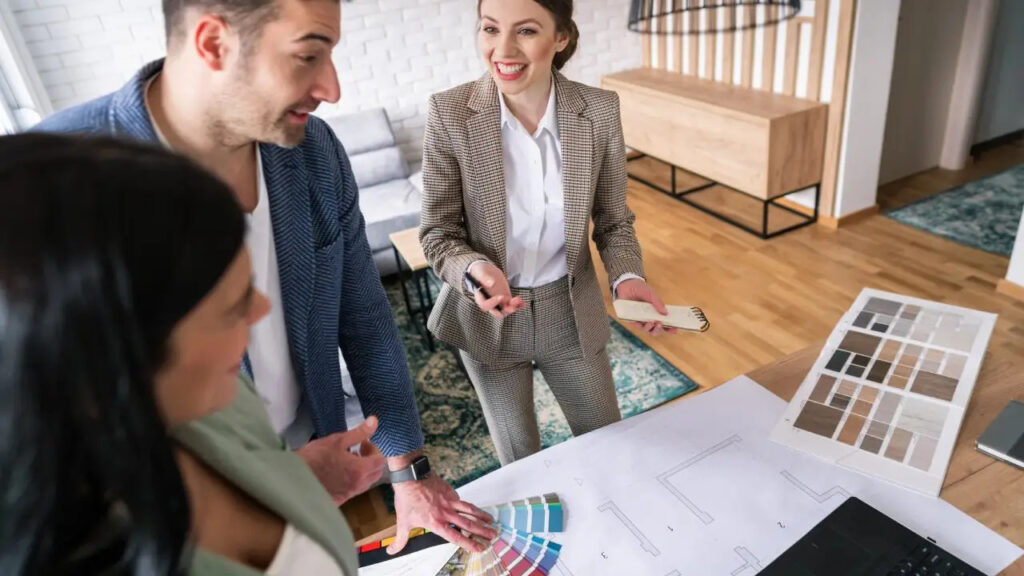 Does your home require a makeover to add glam to your aesthetic interior design ideas? Then, we suggest you hire a professional interior designer who can offer a blend of the best interior design ideas and match your specifications. It will offer a host of benefits that will be discussed as follows:
1. Trend knowledge and valuable industry insights– One of the most obvious benefits of working with a professional interior designer is that you will access their wealth of industry knowledge. An expert in the field will be aware of upcoming trends and the most recent innovations in office design, furniture development, and workplace technology.
2. Extensive experience with industry projects– A professional interior designer would bring interesting ideas to the table, with years of experience handling top industry projects. They are the best equipped to translate your vision and effectively combine it with functionality and brand image.
3. Time management and budget handling – Time management skills and budget handling are important perquisites of a professional interior designer. An experienced interior designer will have a blend of both the qualities mentioned above and execute the process effortlessly.
4. A Weight off your shoulders – The ability of a professional interior designer to use their industry knowledge and experience to make informed design decisions and offer the best interior design ideas is usually a blessing in disguise. It will not only save you valuable time and energy, but it will also ensure that you are maximizing the potential of the space.
Steps to Choosing The Right Interior Design
It isn't easy to select an interior designer to remodel your entire home or a portion of it. You want everything to be perfect as a client and beneficiary. After all, you'll live with the results for a long time, so there's no room for mistakes. However, we present some steps to get the best interior design ideas for a two bhk flat.
1. Identify your style– Take time to check some websites that can help if you're a little fuzzy on the details. Knowing your style is essential for hiring the right person for the job. Many designers have a signature style, but the best ones should be able to adapt to your preferences.
2. Check some portfolios of professional interior designers – Learn more about them and look through their portfolios. Look at what they've made and try to picture yourself living in those spaces.
3. Meet the designers– It is necessary to determine the budget and narrow your list of choices before meeting the designers. During this meeting, ask many questions about clients you could contact for referrals, experience, qualifications, the services the designer will provide, the costs, the duration of the project, and anything else that comes to mind.
4. Sign the contract – Consider several estimates, and note the pros and cons of choosing the professionals. Make sure you sign a contract before any work is done and before you pay anything. It should outline responsibilities, a timetable, budgetary constraints, and all other important details.
Interior design Ideas for Bedroom
Tips for furnishing the bedrooms of a two-bedroom apartment
opt for a wardrobe with sliding doors rather than front-opening doors to save space. Use a full-length mirror to eliminate the need to store one in the room.
Buy beds with built-in storage for your bedroom two BHK flat interior design.
You could also incorporate a wood-finished wall behind the bed to add warmth to the overall design.
Interior design ideas for Living Room/Hall
 Using clever furnishing tips, you can make your apartment appear more spacious and airy.
Consider using sheer shaded curtains to allow plenty of diffused sunlight in. White flooring is another popular interior design tip for making a home appear larger than it is.
Interior design ideas for Kitchen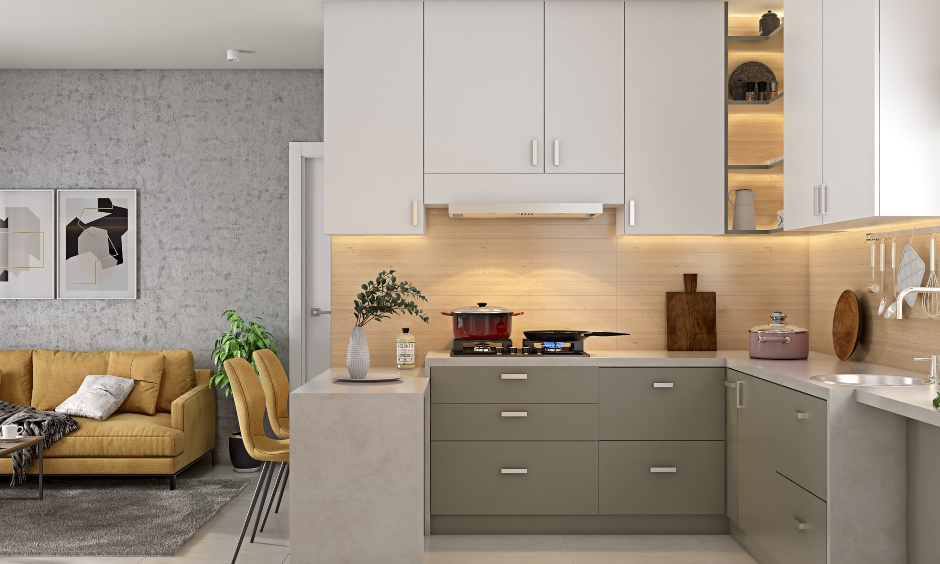 You might consider installing cabinets into niches to save space. Additionally, install hooks, overhead, and base cabinets in your kitchen for easy storage of utensils. An open kitchen will make your two-bedroom apartment appear larger.
If your dining table has bottom drawers, think about including a bench. This removable piece of furniture may be used for both extra seating and extra storage.
Interior design ideas for bathroom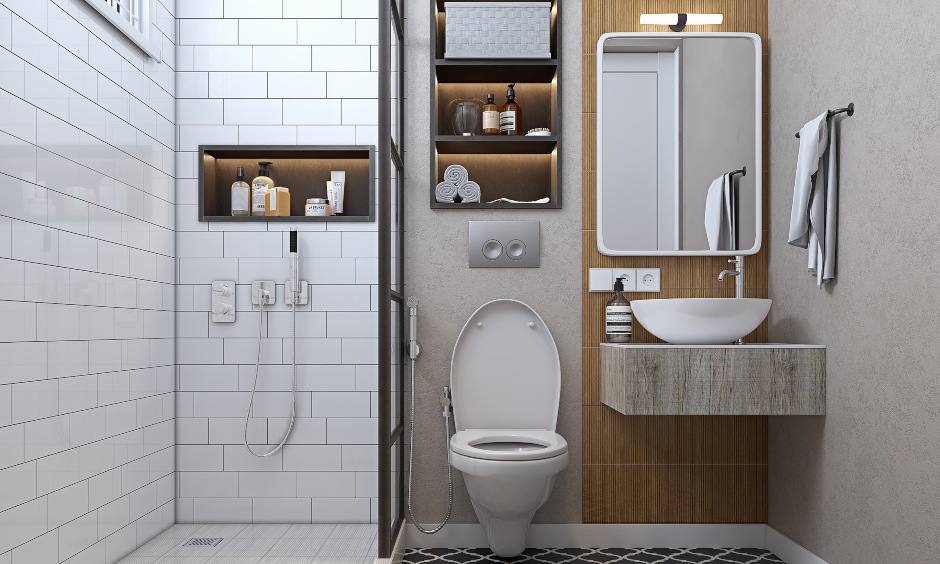 You can have a separate shower area, that can offer a sophisticated and spacious look.
Child-friendly 2 BHK interior design ideas
If you think that only people who seek luxury décor are eligible for the greatest interior ideas for a 2BHK flat, you're wrong! You might think of having a bedroom with patterned walls and bright yellow couches. Or synthetic grass on the balcony gives kids a secure space to play!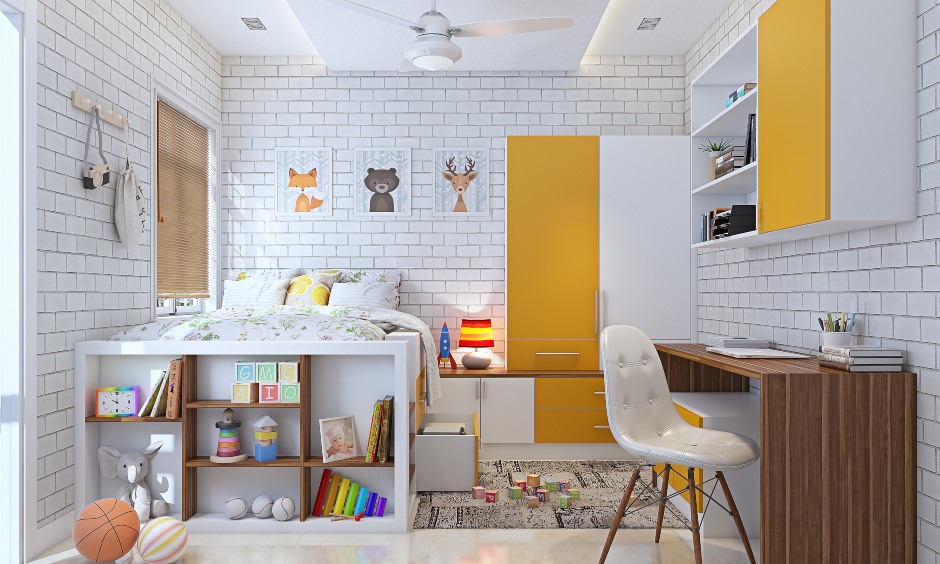 Tips To Keep In Mind While Choosing The Interior Design Ideas For Your Home
1. Try these theme ideas– The theme factor is extremely flexible and amazing, which can give a modish look to your home. Choosing a theme for your interior decor can simplify the process. You can include antique objects and (swings) that will offer your home a sophisticated and elegant look.
2. Use interesting colour designs– We have our ideas about colours. Some people prefer muted colours for comfort, while others prefer bright colours to lift their spirits. Whatever colour you choose, you can make the most of it by focusing on balance and coherence.
Of course, colour themes such as monochromatic interiors, neutral colours, black and white interiors, and so on exist. You should also incorporate elements of your personality into the colour scheme, such as wallpaper or a unique wall design.
3. No clutter, maintain elegance and design– When designing a 2BHK flat, the most important rule to remember is not to overcrowd the space with multiple pieces of furniture or décor. Select a few that will add a dramatic appeal and charm to your home. Instead of several smaller pieces, try a large piece of furniture or a large piece of art.
4. Opt for customized furniture -Customized furniture can ensure maximum space utilization and blends seamlessly with your interiors. When designing your furniture, keep storage in mind. Bring in some quirky designs to add charm and personality to your home. It is one of the best interior design ideas for flats.
5. Incorporate lights that add to the WOW factor – You can choose spectacular light options that will enhance the glamour and appeal to your home effortlessly. You can try majestic chandeliers or fancy lights that can make it look more cosy and beautiful.
6. Use creative storage ideas- Vertical or innovative storage solutions can be beneficial. Construct a wardrobe with sliding doors and invisible knobs to keep it hidden. Make use of the space above doors and windows for storage.
Conclusion
We hope you found our ideas useful! If you want your home to be just as beautiful, look no further. You may have guessed that we have all the best 2BHK interior design ideas! Whatever you see for your home, from luxurious furnishings to simple, practical ones, we have it covered! Do you wish to learn more?